A chamber in the Woodlands where Bigby's arrested suspects get interrogated for answers on a certain case.
History
The Woodlands Basement is seen in Smoke & Mirrors where either The Woodsman or Tweedle Dee are interrogated. Bigby can either be harsh, and torture the suspect. Or be lenient with the suspect.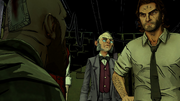 -If Bigby Tortures The Suspect-
If Bigby tortures Woody or Tweedle Dee in the basement, Ichabod Crane will be disgusted by this and try to end Bigby's "savagery" as Bluebeard will stand by and watch. This will result in Bigby attacking Crane, insulting Crane, or remaining silent. No matter his decision, to everyone's suprise, Snow White who was previously thought to be dead, enters the room.

-If Bigby Shows Mercy Torwards The Suspect or Uses Only Some Violence-
If Bigby decides to show mercy torwards the suspect in the chair, or atleast only use a little bit of violence, Bluebeard will step in, angered by what he is watching. He determinantly claims that Bigby is treating the suspect like a "houseguest" if Tweedle Dee is the suspect, If Woody is the suspect, he sarcastically makes a joke about learning Woody's "sexual adventures" instead of finding information on the murder case. Bluebeard will push Bigby to the side, and begin beating up the suspect. Bigby will then step back in, resulting in a fight between Bluebeard and Bigby. Depending on how well the player does in the quick time events, BIgby can either pin Bluebeard to the wall, or the opposite can happen. In the middle of all this, to everyone's suprise, Snow White, who was previously thought to be dead, enters the room.