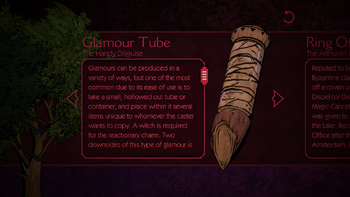 Glamour Tube is an unlockable Book of Fables entry in The Wolf Among Us, earned during the course of "A Crooked Mile". It is obtained by not burning down the tree.
Book of Fables Entry
Glamours can be produced in a variety of ways, but one of the most common due to its ease of use is to take a small, hollowed out tube or container, and place within it several items unique to whomever the caster wants to copy. A witch is required for the reactionary charm. Two downsides of this type of glamour is that totally unique appearances are completely impossible, and the nature of the vessel makes it quite unstable.