Feathertop is one of Bigby's Tourists.[1]
History
Fable
Feathertop was a scarecrow of the witch Mother Rigby, built to protect her garden. Her creator later brought him to life, and Feathertop has since been able to take on the appearance of a human, as long as he continues to puff on his pipe. Mother Rigby sent him to town to woo Polly Gookin, the daughter of Judge Pookin, whom Mother Rigby has a grudge against.
Feathertop and Polly soon began to fall in love. However, when Polly saw Feathertop's true form on a bewitched mirror, she fainted. Hurt, he went back to Mother Rigby and broke his pipe, reverting himself back to a scarecrow. His "mother" Rigby reflected upon this, deciding that Feathertop is better off as a scarecrow to not be associated with other worthless people who "never see themselves for what they are."
New World
Feathertop was among the many Fables who escaped to the mundane world. Because of his unearthly nature, Feathertop was assigned to accompany Snow White in her search for the Bigby Wolf. Upon finding him in Carpathia, Europe in the 17th Century, during the early days of Fabletown and the Fables' amnesty, they invited him to join their new community.
At some point prior to the events of Everafter: From the Pages of Fables #1 Feathertop became the head of the 'Intelligence gathering' organisation known as The Shadow Players.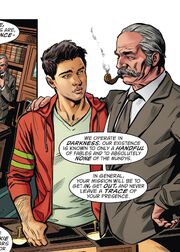 References
Community content is available under
CC-BY-SA
unless otherwise noted.